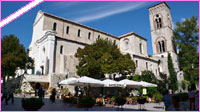 Ravello  If you like stunning scenery and holidays that are steeped in history, this is the place for you! There are wonderful panoramas to feast your eyes upon, not to mention Roman and medieval remains, cloisters and churches, as well as several charming gardens.
The settlement perches high above Amalfi, overlooking the Mediterranean. A renowned Musical Festival is held here every year, with classical music concerts taking place in gardens with breathtaking views, all through the summer season. Ravello, perched high on the cliffs above Amalfi, is famous for its views and its gardens.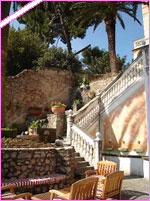 The town, once part of the Republic of Amalfi, it's now a peaceful historic village really popular between tourists and honeymooners. Its main tourist attractions are the two famous gardens, Villa Cimbrone and Villa Rufolo. Both of these panoramic gardens are open to the public, and you can have a walk through the tropical plants and enjoy fabulous sea views of the coastline… just a fairytale scenery for your wedding day and your honeymoon!
Many celebrities have been enchanted by this beautiful place… Ravellian scenes are sketched out in a short story by Forster, the famous author of Room with a View. Ravello also had the good fortune to repeatedly play host to other English writers, including Virginia Woolf, author of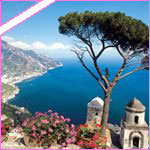 To the Lighthouse. Here David Herbert Lawrence wrote numerous chapters of Lady Chatterley's Lover and André Gide set a part of his novel The Immoralist.
Among the literary men who have been to Ravello, we should not forget to mention also Paul Valéry and Graham Greene, Tennessee Williams… among musicians Richard Wagner, Toscanini… among painters Mirò, Turner, Rusking… among statesmen, Einaudi, Kennedy, Mitterand, Togliatti and De Gasperi. So don't hesitate to contact us today and our professional and friendly staff will be more than happy to suggest the best solutions for you!!
Without doubt, one of the most magic spots in all of Italy is the Amalfi Coast – a fairytale corner that'll steal your heart.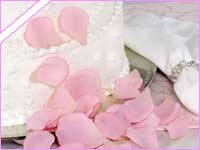 Here, traditional towns with the colour of ice creams dot a coastline so beautiful that you can't imagine.
Wild rugged cliffs plunge into a deep blue sea that sparkles like diamonds and the dreamy scent of citrus trees and wild flowers hangs in the air like expensive French perfume, so sweet you'll wish you could bottle it up and take it home. Hundreds of weddings are celebrated here every year… couples coming from all over the world, fascinated by this piece of paradise, choose these places as a romantic scenery of the most beautiful day of their life!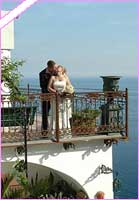 One of the most popular spots to tie the knot is Sorrento, a chic resort that'll sweep you off your feet. One of the first things you'll notice is the location.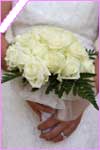 Perched on a cliff that drops sheer into the sea, it keeps a watchful eye over the breathtaking Bay of Naples and has a view of Mount Vesuvius, too. In the town itself, narrow little streets open out on piazzas laced with cafés and boutiques.
The clip-clop of hooves fills the air as horse and carriages clatter by. And waiters in candlelit trattorias serve your evening meal with a flourish and a smile. The flower-filled Cloister of San Francesco is the perfect place to exchange your wedding vows and just one of the magical settings we can offer you.
Further along the coastline, you'll find more equally enchanting spots to sign up to a lifetime of wedded bliss. Couples all over the world swoon at the mere mention of Positano, a gem of a resort loved by the rich and famous.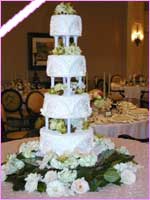 Celebrate your wedding on a breathtaking sea view terrace, against a backdrop of pastel-washed houses that spill down the hillside. Or, instead, head for Amalfi, an authentic slice of Italy with more charm than the waiters who'll bring you your morning espresso.
Of course, with the ceremony taken care of, it's time for your honeymoon to begin. And you couldn't be better placed for it. Whether you're browsing the racks of designer boutiques in nearby Capri or taking a romantic stroll through the charming town of Ravello. Enjoying the breeze in your hair on a boat ride or discovering the frozen city of Pompeii – it's all there, waiting for you!