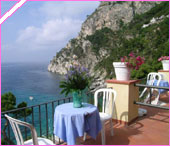 Capri  is one of the most enchanting islands in the world. For centuries writers, poets, musicians and painters have fallen under its spell. Many directors have chosen it as the setting of their films and of course all sorts of famous people have gathered here at the cafè tables in the celebrated piazzetta. One of the island's first adepts was the Roman emperor Tiberius, who spent the last years of his life here.
Certainly the magic "cocktail" of nature, art, culture and high society that Capri can offer has no equivalent in the world… but what is it about the island that really makes its mark on visitors?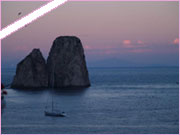 For sure it's the sea, or better the colours of the sea and the environment: the intense blue of the deep water, the crystalline turquoise in the inlets, the white of the rocks in the blazing sun… or again the dense green of the Mediterranean maquis, the colourful and perfumed bloom… all around you feel as though you are in a world of enchantment. You catch sight of the sea wherever you turn, with scintillating views… from belvedere of Punta Tragara, to the Natural Arch and the Faraglioni, that unmistakable icon of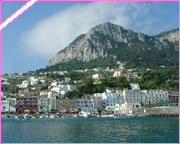 Capri landscape together with the famous Blue Grotto. But Capri's fame as an exclusive destination begins at the start of the nineteenth century when it was "discovered" by the travellers taking part to the Grand Tour. It was at this time that the island first hotel opened… intellectuals, writers, painters, poets, artists and the wealthy unemployed all travelled to the Isola Azzurra, drawn to Capri by its exquisite beauty and seduced by the warm and friendly spirit of the islanders.
Numerous illustrious names chose the island as their retreat, such as Krupp, Axel Munthe, Thomas Mann, Pablo Neruda, Graham Greene… So if you fancy a really exclusive and glamorous place as the setting of your wedding day, then Capri is the perfect choice!! Please, contact us today and we'll be delighted to help you to choose the most suitable location for you…
Capri is also the perfect setting for an unforgettable and romantic honeymoon or anniversary…