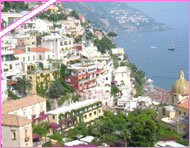 Positano is one of the gems of seaside tourism in the Mediterranean sea, with clusters of little houses in pastel hues standing out against the luxuriant vegetation and colourful flowers. Its narrow streets are crammed with boutiques which have made Positano style famous all over the world. At the same time you will still find here the charm of a simple fishing community, combined with charming renowned hotels.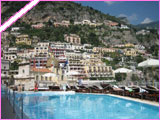 Extravagant, alluring, snobbish… this is the place where the Shah of Persia chose to spend his honeymoon and where the movie director Franco Zeffirelli has lived for many years. Its charming little streets have hosted stars of Hollywood (Anthony Quinn, Liza Minnelli, Elizabeth Taylor, Roman Polanski, Matt Dillon…), fashion gurus like Jean Paul Gaultier, Trussardi and famous names of the art world such as Tennessee Williams, Leonard Bernstein, Eduardo De Filippo, Mick Jagger…
Here you can really breathe a magic atmosphere that will put a spell on you… and your wedding day or honeymoon will be simply unforgettable!!! Don't hesitate to contact us today and we'll be delighted to help you with all the details….