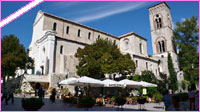 Ravello  If you like stunning scenery and holidays that are steeped in history, this is the place for you! There are wonderful panoramas to feast your eyes upon, not to mention Roman and medieval remains, cloisters and churches, as well as several charming gardens.
The settlement perches high above Amalfi, overlooking the Mediterranean. A renowned Musical Festival is held here every year, with classical music concerts taking place in gardens with breathtaking views, all through the summer season. Ravello, perched high on the cliffs above Amalfi, is famous for its views and its gardens.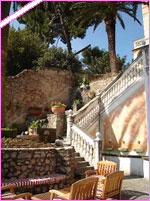 The town, once part of the Republic of Amalfi, it's now a peaceful historic village really popular between tourists and honeymooners. Its main tourist attractions are the two famous gardens, Villa Cimbrone and Villa Rufolo. Both of these panoramic gardens are open to the public, and you can have a walk through the tropical plants and enjoy fabulous sea views of the coastline… just a fairytale scenery for your wedding day and your honeymoon!
Many celebrities have been enchanted by this beautiful place… Ravellian scenes are sketched out in a short story by Forster, the famous author of Room with a View. Ravello also had the good fortune to repeatedly play host to other English writers, including Virginia Woolf, author of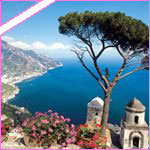 To the Lighthouse. Here David Herbert Lawrence wrote numerous chapters of Lady Chatterley's Lover and André Gide set a part of his novel The Immoralist.
Among the literary men who have been to Ravello, we should not forget to mention also Paul Valéry and Graham Greene, Tennessee Williams… among musicians Richard Wagner, Toscanini… among painters Mirò, Turner, Rusking… among statesmen, Einaudi, Kennedy, Mitterand, Togliatti and De Gasperi. So don't hesitate to contact us today and our professional and friendly staff will be more than happy to suggest the best solutions for you!!